Sat 6th - Tues 16th May
Rio (4 nights): Hotel Oceano Copacabana
Pantanol (4 nights): Pousada Caiman Lodge
Iguassu (2 nights): Hotel Das Cataratas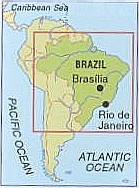 Paul and Preetha's fifth e-mail details their stay in Brazil, the fifth largest country in the world, a third of which is covered by the Rain Forest around the Amazon river and basin. Unlike most of the rest of the continent the official language is Portuguese.
However, after an apparently unnecessary night in Rio, our intrepid duo headed back into the jungle again to Campo Grande in.the Pantanol region, a vast swamp/marsh covering over 100,000 sq km. Like the Amazon, the Pantanol is home to hundreds of species of birds, fish and reptiles. However, this wildlife is much more easily viewed in the marshlands of the Pantanol than in the jungles of the Amazon. Such accessability was proved by Preetha when she almost managed to catch a 6ft alligator whilst fishing for Piranha (of which she caught many).
Paul and Preetha then returned to Rio. With the enormous Bay of Guanabara, wide sandy beaches and massive granite mountains, Rio is one of the most beautiful cities in the world. It is also known as one of the most sociable as well, especially during the world famous carnival (which takes place around February time - historically the last celebrations before the 40 days of fasting prior to Easter).
On their way from Rio to Argentina the two P's stopped off at Iguassu falls, which straddle both the two countries, as well as Paraguay. Composed of over 300 distinct waterfalls, the most impressive section is known as Devil's Throat, where 14 adjacent falls drop over 100m with such force that a rainbow is almost always visible during daylight hours.