Stay: 6 nights
Tuesday 16th - Monday 22nd May
Buenos Aires (3 nights): Hotel Castela
Calafate (3 nights): Hosteria Kau Yatun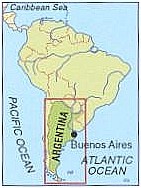 After a one-night stop-over in Buenos Aires, Paul and Preetha headed on to Calafate in southern Patagonia. This area, which covers a third of the country, is a flat, empty plain containing many large cattle and sheep ranches. These ranches (some larger than small European countries) are still owned by predominantly British descended families who still speak English and whose ancestors came over during the boom of the last century.

After Patagonia, Paul and Preetha headed back to see Buenos Aires properly (their first night coincided with storms so strong that a state of emergency was declared)..

Buenos Aires is known as the 'Paris of South America'. Whilst it was founded by the Spanish 400 years ago, it was virtually rebuilt in the style of the French capital during the beef boom of the 1880s. It has wide avenues lined with jacaranda trees and contains many magnificent buildings, although most are in need of restoration.